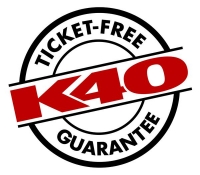 If you are in San Angelo, Texas & looking for Top of the line Radar Detector systems then stop by Superior Audio Sounds to check out our K40 state of the art Radar Detector systems.
We built K40 around our customers – fast-lane drivers who expect the best. Your K40 Five-Star Customer Experience begins with a consultation with a K40 product engineer who customizes your radar and laser detection system for the way you drive. Your system is installed by a Master Craftsman from K40's elite dealer network. And our in-house team of experts is on-call and available 24/7, helping ensure you're always receiving the ultimate protection from police radar and laser.
We deliver the most advanced radar and laser protection systems in the world – backed by the kind of Five-Star care you expect and deserve.